Tripawds is a user-supported community. Thank you for your support!
We scheduled Lucy's amputation surgery today. She will officially become a Tripawd on December 5th. We knew this was inevitable but actually setting a date made reality set in and I'm not sure how I feel about that yet.  It's so hard to be accountable for a decision this extreme- if only she could speak! I feel it in my bones that this will make her feel better but I am still struggling with the idea for some reason.  Sometimes I doubt our decision but then I'm reminded of all our setbacks and all of the limitations we've had to set because of her pain and I come back around, telling myself this is what's best.
There's an open grassy lot in our neighborhood, we call it "the meadow". This is one of Lucy's favorite spots- we can't even say the word without her spazzing out. This is one of our favorite spots because we're usually the only ones there and she can play off leash. We go once, sometimes twice per day.  She wants to chase her frisbee… but we can't let her do it for more than a few throws because she sprints after it with all her might and then holds up her leg. There's another dog who often comes at the same time (Rhemmy, a little Aussie who was born a week before Lucy)- they play well together for a while but then it gets too rough… and she holds up her leg. So mostly we just frolic and investigate all the smells- her tail still wags a million miles a minute so it qualifies as a "happy place". We usually don't stay more than 15-20 minutes or else… you guessed it, she holds up her leg.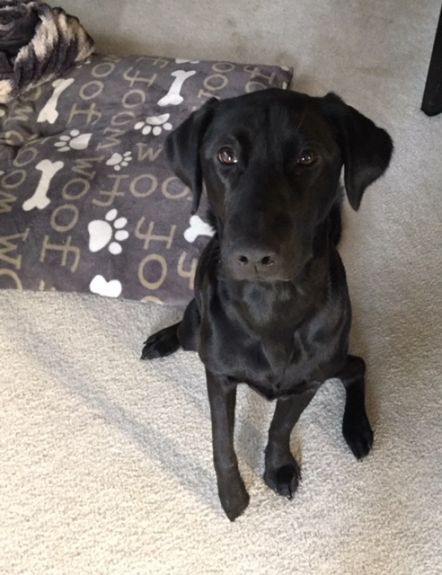 Above: After today's meadow adventure (you can see she's holding up her right leg)
Our friends down the street have a chocolate lab (Tikka) who is a few months older than Lucy. Before her infection, they were best friends. They would play- hard- until we forced them apart- they loved to wrestle and chase balls together. But ever since Lucy's infection, they haven't been able to play together and it breaks my heart. Tikka has a good 25 pounds on Lucy and it's just too much.
We love walks at our house and they are abundant. But we live in the city so we are bound to run into other pooches going out for a stroll. When we see them coming, we normally cross the street. Because Lord knows if they play together in passing, Lucy will get really sore. I swear it's not because we're anti-social 😉
Lucy loves to go for rides in the car- any time you let her in the garage or the front yard, she runs directly to a vehicle hoping to go for a cruise. But she can't jump in or out of the vehicles- because it hurts.
Surprisingly enough, going to the vet is also one of Lucy's favorite things to do. She used to get acupuncture and Dr. Dana quickly became known as the "treat lady" because she always had frozen baby food and peanut butter waiting for Lucy (so she'd hold still for her treatment). Dr. Dager is Lucy's pal- she squeals with excitement whenever she sees him. Bre is her buddy, too- she can't be near her without throwing herself on the floor for a belly rub.  And yet, we have to be very careful when we go there so she doesn't slip on the floor or lose her footing when she jumps at her friends with excitement.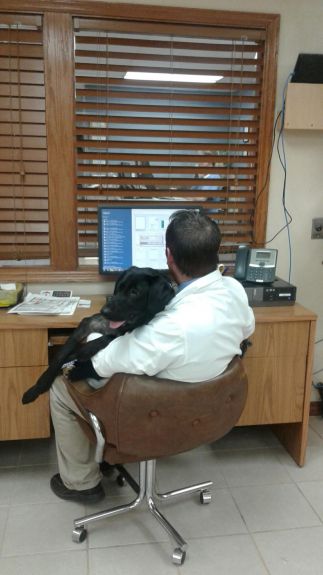 Above: Hanging with Dr. Dager while she was being hospitalized during the day shortly after her initial infection.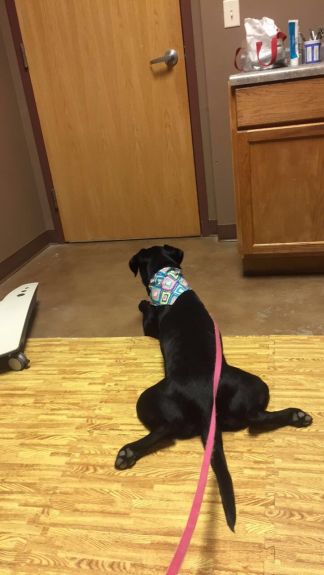 Above: Waiting for her favorite "treat lady".
She loves going to doggie daycare at our vet because she gets tons of attention- from the dogs and the staff. But they usually have to bring her in from play time early because she gets sore.
What I'm getting at here, is that we are tired of having to limit Lucy. She is a sweet, energetic pup who is full of love and life. We just want her to be able to do "normal" dog things! We don't want to tell her she can't play with other dogs, or sprint through a meadow with the intensity and speed that God gave her. We don't want to have to scold her when she tries to jump in the backseat, or live our lives in fear of going anywhere because we're worried about what might happen. And we are hoping that soon enough, we won't have to.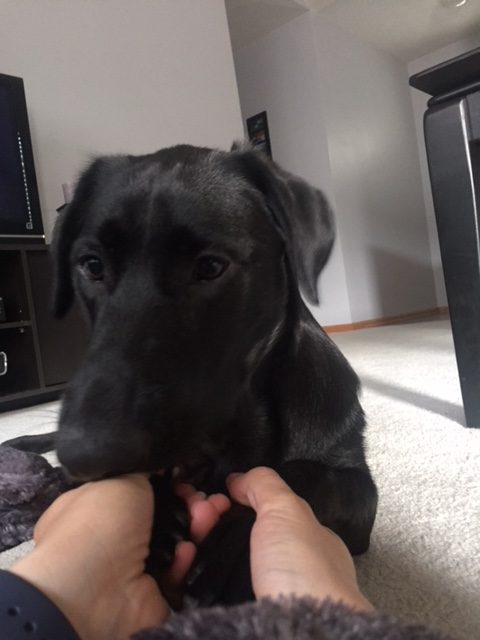 Praying for a successful amputation and a long, happy dog life 🙂
We know we can do this. More importantly, we know Lucy can do this. Like my pal Casey says, the only thing better than a four legged dog, is a three legged dog. <3